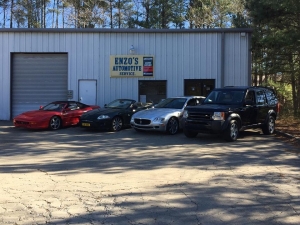 In 1978 Italian born Enzo Abbondanza, along with his wife, left Ohio with limited funds and the idea of starting a car repair shop. He would open a small repair shop in Roswell using a landlords good faith and borrowed tools. Soon Enzo would develop a following in the community. Wealthy people were moving to Atlanta and people needed their Ferrari's, Lamborghini's, Maserati's, Jaguar's, and Land Rover's repaired.
In 1981 with the help of an investor he would move into a large building in Sandy Springs with a staff of six expert technicians. This growth would continue until 1984.  With the larger shop and increased business, payroll and overhead also went up.  Later in the year the investor would sell the building.
During this time, Enzo had become interested in grey market conversions. The dollar was strong and you could go to Europe and buy a car cheap and bring it back the US and convert the car to US specs doing fairly easy work. Once again with the help of outside investors Enzo would setup a lab and conversion center ready to bring Jaguars, Mercedes, BMW, Ferrari s, and many other makes from Europe to be sold here. With the nearest competitor in Tampa, Florida, Enzo would gross over 1.7 million in 1986. Unfortunately, this lucrative business declined as the dollar fell in value. The conversion lab would eventually close.
With a desire to start something new Enzo, would build a Jaguar repair shop in Marietta. With a large amount of Jaguars and other fine automobiles in Atlanta, and no one to fix them correctly, the business was a success and was named Atlanta Magazines best Exotic car repair 1989. Enzo's would continue all through the 90's successfully growing his repair business and in 2001 would start the repair of Land Rovers. This helped increase sales and continued the shops success. In 2012 Enzo's would add the services of repairing Maserati and Ferrari automobiles.
A lot has changed since 1978, but our commitment to your satisfaction and our integrity has not. For 35+ years Enzo's has become an Atlanta mainstay of luxury automobile repair.